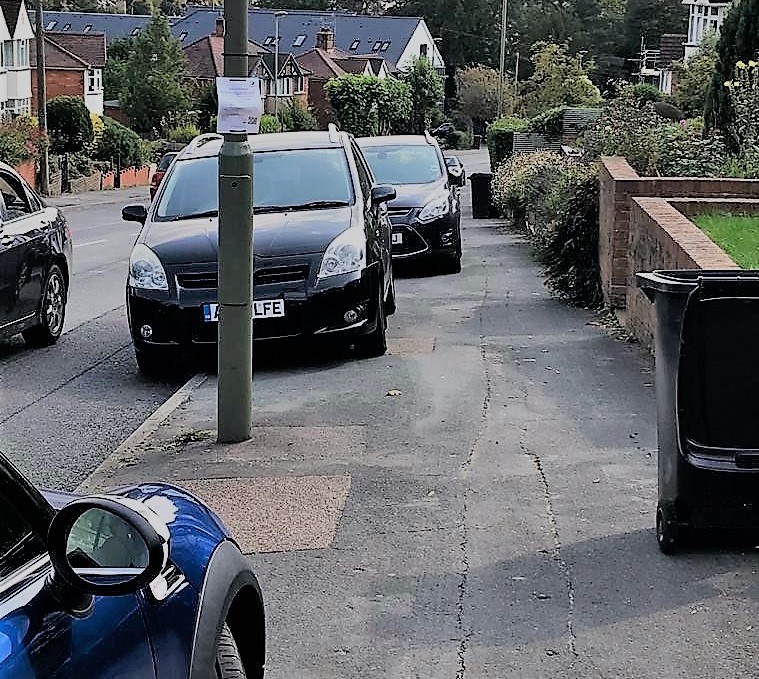 Pavements are for people, says BPA
We have regularly called for a clear and consistent UK-wide common approach to pavement parking which enables local authorities to manage and enforce parking on the pavement, with the presumption being that pavement parking is not allowed.
We believe that a London style pavement parking ban, with appropriate exemptions, must be introduced across the rest of England. Clearer rules and clearer pavements are better for everyone: motorists and pedestrians, and especially for people with disabilities and those with children.
A UK-wide BPA study found the majority of people wanted anti-social parking to be dealt with as a priority. Pavement parking, congestion caused by school runs and parking too close to junctions together were cited by 56% as the 'most urgent' issues which need addressing.
Every day, parents and children are putting themselves at risk because of pavement parking. New polling commissioned by Living Streets indicates that 87% of parents have had to walk into the road because of pavement parking and that 80% would be more likely to walk their child to school if there wasn't pavement parking.
Kelvin Reynolds, BPA Director of Corporate and Public Affairs said: "The Government has promised to better regulate pavement parking in England for many years. Now is the time for action. Scotland and Wales have already started to do this and England must act quickly to give pedestrians better protection from unwanted pavement parking, which is a danger for everyone."
Notes to editors
Notes to Editors
The British Parking Association (BPA) is the professional body representing the UK parking and traffic management profession. We have more than 750 corporate members, which includes representation from local government, commercial providers and operators of parking systems, as well as consultants and academics. In addition, we represent over c650 individuals working within the parking profession, and have a separate membership structure exists to support individuals in their career and professional development.
We are a not for profit organisation working with our partners to support growth for their communities, improve compliance by those managing and using parking facilities and encourage fairness to achieve our vision of excellence in parking for all. Any surplus income arising from our work is reinvested back into activities to support our members or put into a reserve fund to ensure we can continue to raise standards and encourage professionalism.