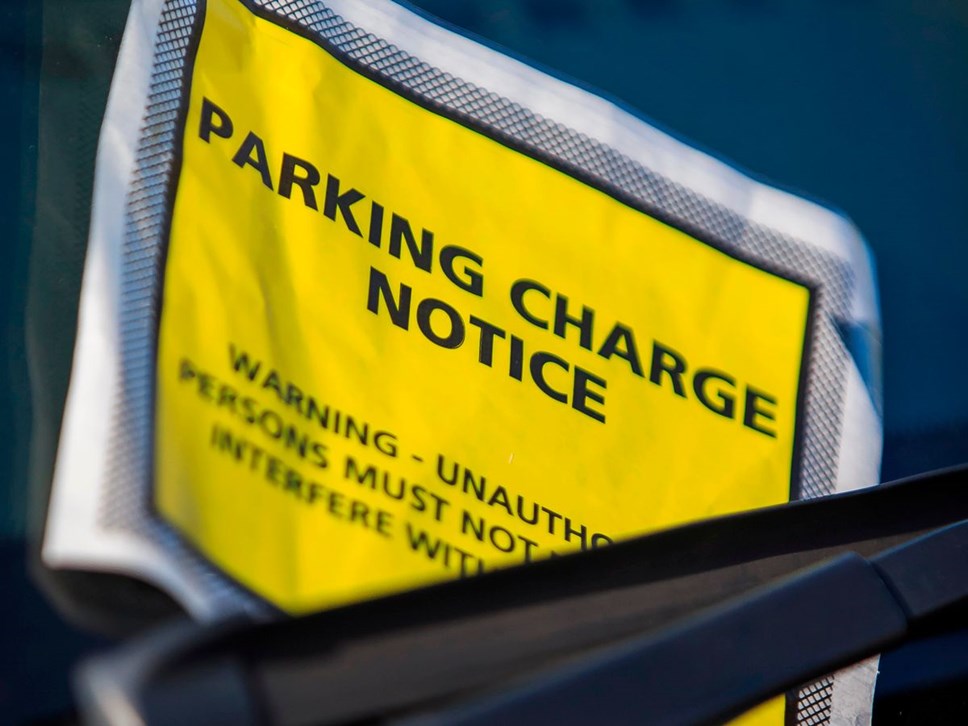 Motorists encouraged not to ignore parking tickets
We continue to hear confusing and inaccurate advice given to motorists. If a motorist receives a parking charge (PCN), which they perceive as unfair, they must not ignore it. Instead, they should appeal to the issuing operator in the first instance and then to the free independent appeals service when this is made available to them. It is essential that motorists engage with the appeals process which offers the opportunity to provide further evidence and avoid the escalation of charges.
The best way to avoid getting a PCN is to pay where you should and not to park where you don't have the right to do so. Motorists should always check the signage in private parking locations and adhere to the terms and conditions.
The RAC Foundation's recent estimate of c.8million parking charges issued this year reflects increased car ownership and millions more parking acts taking place every day, the vast majority without incident. This is because parking is effectively managed fairly and responsibly to make sure we can all access the shops, leisure facilities, hospitals and supermarkets that might otherwise become congested. There are many reasons why the number of DVLA data requests can rise and this includes multiple requests for the same vehicle because historically there is evidence to show that some motorists acquire multiple tickets. However, 4 out of 5 motorists never get a parking ticket.
There have also been various quotes about excessive profiteering made by the parking sector, but a recent report commissioned in February of this year by a global provider of trusted industry research shows the average profit made by a parking company was down to 2.1% during the pandemic, but this should rise to 3.9% by 2025/26.
Andrew Pester, BPA Chief Executive said "We welcome the Parking (Code of Practice) Act and measures to introduce a single code, standards setting body and an independent appeals service. However, for this package of measures to be sustainable, there needs to be a sufficient deterrent. Without effective parking management, places would become congested and inaccessible."
We are calling on Government to reconsider proposals to drastically lower the level of the deterrent to enable effective parking management and avoid the type of chaos seen at many seaside towns and beauty spots when lockdown eased last summer. When the deterrent is set too low, more people take the risk of not following the advertised terms and conditions.
We are delighted that Government has taken on our idea of a robust Appeals Charter which will provide motorists with a known result to any appeal where a simple mistake may have occurred, for example, a keying error when paying. The sector focusses on parking management and not mistake punishment.
Notes to editors
If you need more information please contact the BPA press office – email: media@britishparking.co.uk / 07788 315 625 or visit our Media Hub
Notes to Editors
The British Parking Association (BPA) is the professional body representing the UK parking and traffic management profession. We have more than 750 corporate members, which includes representation from local government, commercial providers, and operators of parking systems, as well as consultants and academics. In addition, we represent over c650 individuals working within the parking profession and have a separate membership structure exists to support individuals in their career and professional development.
We are a not for profit organisation working with our partners to support growth for their communities, improve compliance by those managing and using parking facilities and encourage fairness to achieve our vision of excellence in parking for all. Any surplus income arising from our work is reinvested back into activities to support our members or put into a reserve fund to ensure we can continue to raise standards and encourage professionalism.
We have always been at the forefront of raising standards in the parking sector, with the first code of practice in 2006 and launch of the Approved Operator Scheme (AOS) in 2007, the model for Accredited Trade Associations. Our Code is continuously improved with stakeholders, accompanied by a full internal and third-party audit, and a scheme of sanctions to ensure our members comply.
In 2012, we launched POPLA, the first independent appeal service for tickets issued on private land in England and Wales. We extended POPLA into Scotland and Northern Ireland allowing motorists access to free independent appeals.
The majority of drivers (4 out of 5) never receive a parking ticket. Research conducted by the BPA shows that most of the public are more concerned with the parking behaviour of other motorists than of parking operators. They want to see that the minority of motorists who do not follow the rules and show no regard for others are dealt with effectively, whilst recognising instances where people make a genuine mistake.